1025 Hayne Street • Spartanburg, SC 29301 • 864-576-7682 •
© 2019 Una Fire Department
UNA FIRE DEPARTMENT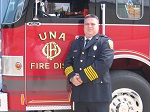 I am Chief Jeff Hadden. Welcome to the Una Community Fire Department web site. The fire department is located at 1025 Hayne St. in Spartanburg S.C. With a compliment of 39 members (15 Certified Firefighters, 1 Prob. Firefighter, 4 Junior Firefighters, 7 Advisory Board Members, and 3 Support Team members), the fire department responds to approximately 475 calls a year. All of our members are volunteer except for our 2 paid daytime staff members. The volunteers are the most important part of this or any fire department.
The Una Community Fire District is a very diverse community. Serving the very young to the very old, along with many different races has helped the firefighters to be able to understand and deal with the problems of the citizens of the fire district. There are some 8000 people that reside in the Una Community Fire District that are of middle to low income. About 40% of our residents are senior citizens, and most of the citizens in our community rent property and are sometimes taken advantage of due to their financial situation.
I became a Junior Firefighter in 1982, then in 1984 I stepped up to Interior Firefighter. I became a paid firefighter in August of 1991 and have served the Una Community since. I was promoted through the ranks since 1993 to my current position as Chief in November 2005. I am a certified Resident State Fire Marshall & I serve with the Spartanburg County Fire Investigation Team. I am a member of the S.C. Fire Marshall's Association and a member of the Carolina Fire Investigators Association.
I have been married to my wife Lisa for 17 years and have two daughters, Tiffany and Shelby. They support my service to the community and to the fire sservice. We are members of Temple Independent Methodist Church, Organized Citizens of U.S.A.
I would like to thank the family members of our firefighters for their unselfish giving of the time of their spouses, children and other members of our department. You are the backbone that drives our firefighters to keep our community safe.
I would like to thank the citizens and business leaders of the community for their continued support of the Una Fire Department and I look forward to working with you for many years to come.
If you have any questions, comments, problems or suggestions you may contact me at the fire department Monday through Friday at 864-576-7682.